Football,Tailgating & What else? Virginia Peanuts Of Course!
I have a secret to tell…I do not care about football. Some people that know me will laugh because they already know this secret. However, if you only know my family, then this statement will shock you.
Peanuts and football rule the fall here at Hope and Harmony Farms. If the boys are not in the peanut fields harvesting this year's peanut crop, then you can find them at the cabin watching football or in Blacksburg tailgating prior to jumping to Metallica's "Enter Sandman."
For me, I think I would rather drop off whatever appetizer to the party, mingle for a bit, and then watch something other than football in the comfort of my bed. Do not get me wrong: I love hanging out with family and friends, but football just does not do it for me!
However, when I dropped off my oldest daughter in Blacksburg today I realized how important that place is to me. It's now more than just football. It is now the place that will help to complete my daughter's education and is her home away from our home. Every home game Jeffrey and I attend for the next four years will bring not only a day of football, but also a chance to see my daughter. I am already so excited to see her again and bring a little piece of the farm to her new home.
For our first tailgate this year, guests can expect to find our famous Cajun Boiled Peanuts with many more goodies and my family can expect to find me sipping an adult beverage somewhere other than in front of the television watching the game.
Cajun Boiled Virginia Peanuts
Ingredients
1/2 cup Cajun seasoning
2 pounds dried raw peanuts (in the shell peanuts)
1/2 cup salt
1/4 cup cider vinegar
Cajun Seasoning:
2 tbsp. black pepper
2tbsp. cayenne pepper
2tbsp. garlic powder
2 tbsp. chili powder
Directions
Put the vinegar and water in a big pot and bring to a boil. Add the Cajun seasoning and salt. Add raw peanuts. Find a plate that is just smaller than the diameter of your pot (make sure the raw peanuts are covered with water).
Place the plate on top of the raw peanuts to weigh them down a bit.
Lower heat to a simmer and cook for about 6 1/2 hours, or until peanuts are very tender (add water as needed to keep peanuts submerged). Drain and cool on a pan in the refrigerator. Store in refrigerator in a sealed container for up to 5-7 days.
Slow Roasted Boston Butt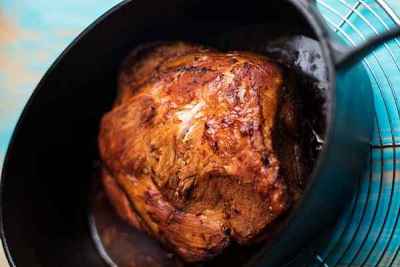 Ingredients
4 lb. Boston Butt
½ cup yellow mustard
1 teaspoon salt
1 teaspoon ground black pepper
1 teaspoon garlic powder
1 1⁄2 Infused Green Peanut Oil
Directions
Preheat oven to 250 degrees.
Line a small roasting pan with foil (makes clean up easier).
Rub butt all over with plain yellow mustard and sprinkled with salt, pepper and garlic powder. Then place butt onto another piece of foil, and wrap tightly, if needed use another piece of foil to make sure no liquids come out.
Bake for 4 or 5 hours, then remove foil from top of butt to drain excess liquid.
Turn temp up to 350 degrees.
Top with Infused Green Peanut Oil and bake for another 1 1/2 hours if butt is getting too dark cover with foil and continue baking.
Cole Slaw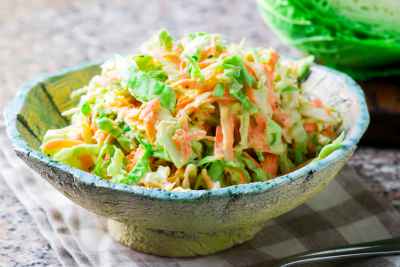 Ingredients
2 (10-ounce) packages finely shredded cabbage
1 carrot, shredded
1 small sweet onion minced
1/2 cup sugar
1/2 teaspoon salt
1/8 teaspoon pepper
1/2 cup mayonnaise
1/4 cup milk
1/4 cup buttermilk
2 1/2 tablespoons lemon juice
1 1/2 tablespoons seasoned rice vinegar
Directions
Combine cabbage, carrot and onion in a large bowl. Whisk together sugar and next 7 ingredients until blended; toss with vegetables. Cover and chill at least 2 hours.
Dijon Peanut Potato Salad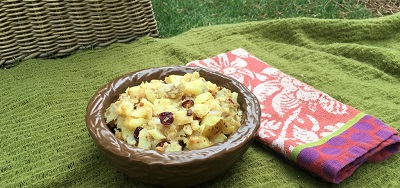 Ingredients
3 medium potatoes
1/3 cup crunchy peanut butter
3 tablespoons green peanut oil (green peanut oil or olive oil maybe used)
1 tablespoon Dijon mustard
1 tablespoon vinegar
Variations:
Make it crunchy: Add 3-4 Tbsp chopped celery or diced red onion.
Sweeten it up: Add ¼ cup dried fruit (cranberries, cherries, apricots).
Directions
Cut potatoes into small cubes and place in large pot. Add water to cover the potatoes by 2 inches and bring to a boil. Reduce heat and simmer until potatoes are tender--about 10 minutes. While the potatoes are cooking, mix together the remaining ingredients. Once the potatoes are done, drain them in a colander and transfer them to a large bowl. Pour the other ingredients over the potatoes and mix well until you reach your desired consistency. Season with salt and pepper. Chill before serving.
Use this as your base and make it your own, or just keep it simple!
Dijon Peanut Potato Salad recipe courtesy of National Peanut Board
Virginia Peanut Butter Cookies: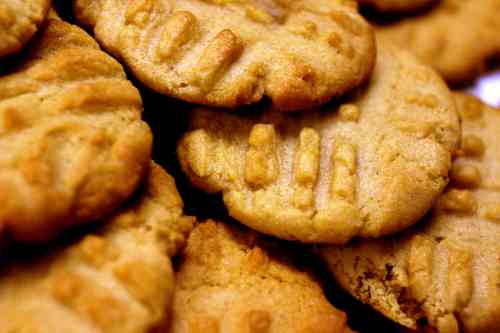 Ingredients
1c. white sugar
1c. brown sugar
1c shortening
1t. vanilla
2 eggs
1t. salt
¾c. creamy or crunchy peanut butter (your choice)
3c. flour
2t. baking powder
½t. baking soda
Directions
1. In a bowl combine white sugar, brown sugar and shortening. Using a mixer at medium speed, beat the ingredients together until they are light and fluffy.
2.Add vanilla, salt, peanut butter and beat eggs in.
3.Add flour, baking powder and baking soda. Stirring until mixed.
4:Chill dough for one hour
5.Roll dough into 1 inch balls and put on cookie sheets. Flatten each ball with a fork, making a crisscross pattern. Bake in a preheated 350 degrees oven for about 10 minutes or until cookies begin to brown.
Happy Eating!